Vacuum-type Glove Box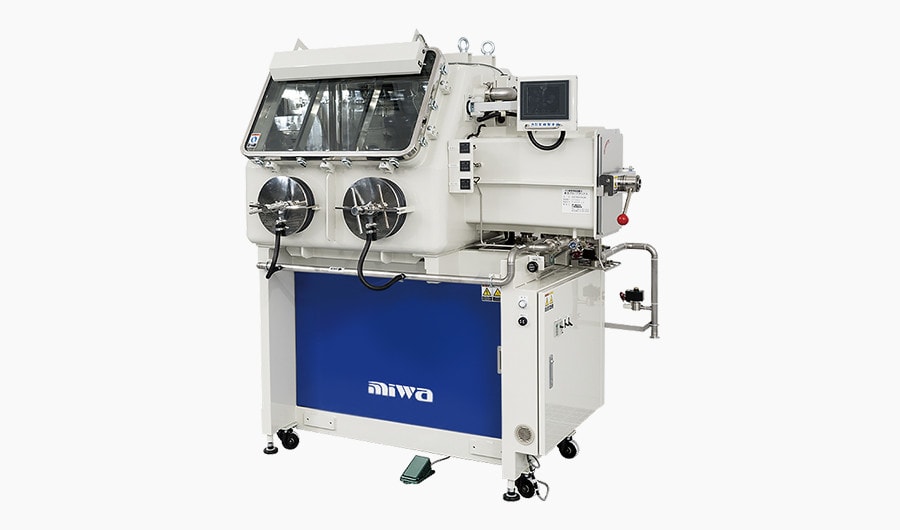 The vacuum glove box system can be used for handling (i) solids, powders, and liquids that are unstable in air, (ii) radioactive substances and (iii) very toxic substances. After being quickly evacuated by a vacuum pump, the system inside is hermetically filled with a predetermined inert gas (N₂, Ar, He, dry air or the like) up to normal pressure. Operations can be executed through the gloves. Specimens are loaded/unloaded through the side box. The attachment of a gas recycling purification system makes it possible to maintain a highly pure inert gas atmosphere inside the system for a long period of time.
Features
Both the glove box and the side box can be evacuated, resulting in rapid gas replacement and high reliability.
The viewing window is large and can be readily attached and removed, enabling specimen loading/unloading through the viewing window.
Located on the side of the glove box, the side box has a sliding door for effectively accessing the glove box.
The side box has a slide table that facilitates specimen loading/unloading.
The pressure inside the glove box can be kept constant by an automatic pressure controller (optional).
When a special glove port (patent pending) is used, a damaged glove can be replaced without disturbing the atmosphere inside the glove box (optional).
Specifications
Vacuum degree
Glove box: 13.3Pa or less
Side box: 6.65Pa or less
Viewing window
Hardened reinforced glass
Inside finish
Buffed (standard), Electroplated
Glove box internal electrical outlet
100 V AC 15A × 2
Automatic pressure controller
Equipped with a foot switch (optional)
Illumination LED lamp
13 W
Gloves
Butyl (standard), Neoprene
* Precision cleaning of gloves (optional)
Viewing window safety cover
Polycarbonate (optional)
Lineup
* Glove boxes can be manufactured to sizes other than above.