Vacuum Electric Ovens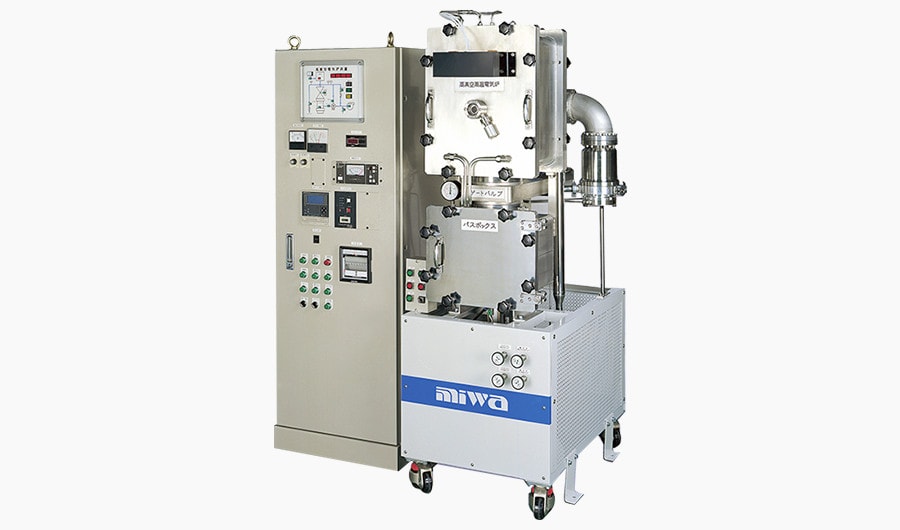 This high-temperature electric oven is designed to sinter and anneal metallic and ceramic specimens under high vacuum and highly pure Ar atmosphere. It is internally equipped with tungsten mesh heaters, reflectors and cooling layers. The turbo molecular pump, vacuum pump and operation panel are arranged to heat up, hold and pull down temperature and perform a host of other operations automatically.
Features
By operating the gate valve and cylinder mounted on the pass-box, specimens can loaded/unloaded in/out the oven through the pass-box. Accordingly, operations can be executed without disturbing the oven atmosphere, thus shortening the amount of time needed to attain a high vacuum.
Specifications
Degree of vacuum in the oven
1.33 × 10⁻⁴pa (with no load)
Maximum Temperature
1,700°C
Temp. heat-up rate
Within 100~120 min from room temperature to 1,700°C
Materials
Heaters : Tungsten mesh heaters
Main body : SUS 304
Effective internal dimensions
φ100 × H150 mm
Cooling water
20 l/min at 25°C 2 kg/cm²
Cooling time
Within 120 min to 100°C
Utilities
| | |
| --- | --- |
| Heaters | 20 V × 30 kW (Step-down transformer used) |
| Turbo molecular pump | 200V AC × 0.48 kVA |
| Coarse evacuation vacuum pump | 200V AC × 0.75 kW |